Clarence Williams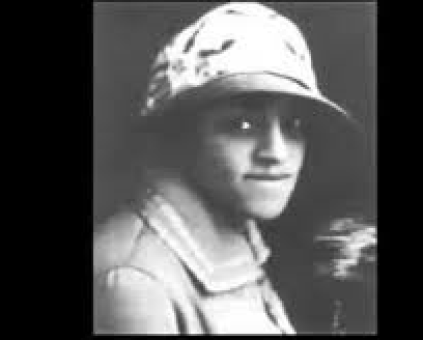 Eva Taylor
After the European tour with Sam Wooding, Tommy Ladnier worked with Fletcher Henderson from October 1926 to November 1927. During this time he also took part in some small band recording sessions with Clarence Williams. On November 16, 1926, Tommy Ladnier was in the recording studio with a group assembled by Clarence Williams accompanying Williams' wife, songster Eva Taylor.
On Scatter Your Smiles, Tommy Ladnier's playing shows his development during the European sojourn but there are some phrases that directly link him back to the last Paramount recordings, especially the stop time passage at the end of the solo.
Senegalese Stomp in Ab, recorded December 10, 1926, starts right off with an energetic half muted Ladnier solo. The swinging feeling he creates is remarkable and he clearly connects to his earlier last Chicago recordings while at the same time reflecting his "new" swing style. This solo is a model demonstration of his use of the "fierce" vibrato that is frequently used. In his break, there is a reference to Morton's Milenberg Joys; otherwise, he repeatedly refers to the "rolling" song theme. This breath-taking record also shows his ability to play varied solos and at the same time play a complex arrangement as a lead man. Similar melodic phrases are also found in Jimmy Harrison's trombone solo. At the end, there is a tenor sax and trumpet duet, where Ladnier again shines, with melodic variations on the theme. This last strain, in F minor, is a kind of forerunner to future two-bar exchanges, a feature that was completely new at this time. This record is a real Ladnier tour de force.
Scatter Your Smiles (Excerpt)
Senegalese Stomp