Musicians at Gare des Invalides 1930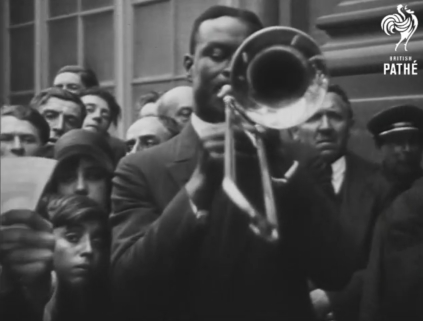 George Brashear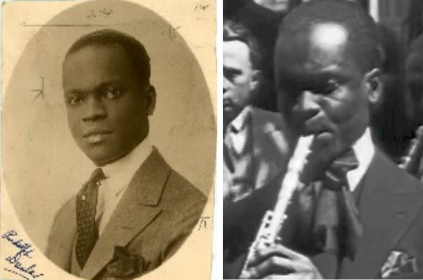 Rudolph Dunbar
Rudolph Dunbar later became a noted conductor. There is a short Dunbar interview on his racial problems made in 1962. You can see this short interview in French at the link below:

http://www.euscreen.eu/play.jsp?id=EUS_B96758DCD67749BBAB21228C397C5BC8
Several Paris-based musicians took part in the reception of the colored Gold Star Mothers reception at Gare des Invalides. The identified musicians include some rarely seen musicians.
George Brashear, trombone

Tommy Ladnier, trumpet

Arthur Briggs, trumpet

Rudolph Dunbar, clarinet

Ramon Usera tenor sax

George Warren, tenor sax

Horace Eubanks, clarinet

Oliver Tines, drums

Big Boy Goudie, tenor sax

Jack Carter, drums

Rudy Jackson, alto sax

Benny Peyton, drums

Eugene Bullard, drums

Cricket Smith, trumpet

Wilson Townes, alto sax

Edward Cole, tuba
The identification can be seen in the document The Gold Star Mothers, available for download below
The Gold Star Mothers (pdf)
Here is a link to the full Gold Star Mothers filmclip
https://www.youtube.com/watch?v=UoY7ucCcOeU
and to the short clip with George Brashear, Tommy Ladnier and Arthur Briggs